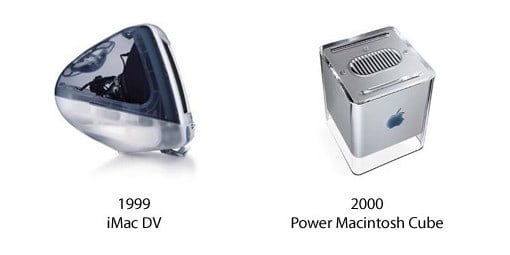 Power Mac G4 Cube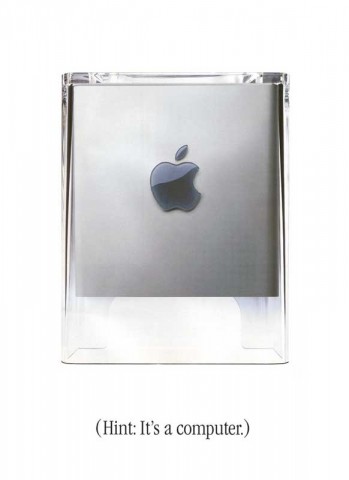 The Power Mac G4 Cube (or, as Steve Jobs put it, "more affectionately, the G4 Cube") was a compact Macintosh personal computer from Apple Inc. It was sold from 2000 to 2001. Its cube form factor is reminiscent of the NeXTcube from NeXT, acquired by Apple in 1996.
The diminutive 8″ x 8″ x 8″ cube suspended in a 10″ tall Acrylic (PMMA) enclosure, housed a PowerPC G4 processor running at 450 or 500 megahertz, and had an unconventional vertical slot loading DVD-ROM or CD-RW drive. A separate monitor — with either an ADC or VGA connection— was required for the Cube, in contrast to the all-in-one iMac series. Also unlike the iMacs, it had an upgradeable video card in a standard AGP slot. However, there was not enough space for full-length cards. The Cube also featured two FireWire ports, and two USB ports for connecting peripherals. Sound was provided by an external USB amplifier and a pair of Harman Kardon speakers. Although the USB amplifier had a standard mini-plug headphone output, it lacked any audio input. The Cube also used a silent, fanless, convection-based cooling system like the iMacs of the time.
References in Culture
The Power Mac G4 Cube with power supply, mouse, keyboard, speakers, and a Studio Display.
Apple Designer Jonathan Ive won several international awards for the Cube's design. The Cube can be found in many publications related to design and some technology museums.
It was also featured as Drew Carey's (a noted Mac Fan) computer on The Drew Carey Show, in the kitchen of the design-conscious Eddy on Absolutely Fabulous, in the apartment of The Real World: Chicago and in Curb Your Enthusiasm in the office of Jeff Greene, Larry David's manager. Also, Jack Bauer of the Fox series 24 had a Power Mac G4 Cube in his office at CTU Los Angeles. A Cube was used by the character 'Will Yorkin' in One Hour Photo (2002), and in Jay and Silent Bob Strike Back you can see one in Ben Affleck's house. In William Gibson's 2003 novel Pattern Recognition, the character Cayce uses her film producer friend's Cube while staying in his anti-designer London flat. The Cube was also featured in the early series of Will & Grace near the kitchen in Grace's apartment and in Gilmore Girls on the hotel front desk.
History and sales
Apple targeted the Cube at the market between the iMac G3 and the Power Macintosh G4. Despite its innovative design, critics complained that it was too expensive. It was initially priced $200 higher than the comparably-equipped and more-expandable base Power Mac G4 of the time (450 MHz CPU, 64 MB RAM, 20 GB hard drive) and did not include a monitor, thus leading to slow sales. Additionally, early Cubes suffered from a manufacturing issue that led to faint lines (referred to as "cracks" or "mold lines") in the clear plastic case. This was often considered damaging to the aesthetic quality of the computer.
After seeing low profits, Apple attempted to increase sales by bundling more software with the Cube, lowering the price of the base model, incorporating a CD-RW drive standard for the 500 MHz version, and offering an improved NVIDIA graphics card as an option. These efforts could not offset the earlier perception of reduced value compared to the iMac and Power Mac G4 lineup. In July 2001 Apple issued a short and slightly unusual press release announcing the product was to be put "on ice."
In 2003, the Apple Cube received a brief return to the spotlight after a series of articles in Wired magazine charted its cult popularity. The articles, focusing on upgrades installed by individual users and retailers such as Kemplar, led to a sharp rise in the Cube's resale value. Nevertheless, with the release of the relatively inexpensive Mac mini (seen by some as a replacement), coupled with Apple's switch to G5 processors and eventually Intel Core-based processors, the Cube again faded into the background.
Modifications and upgrades
Since the Cube's demise, a number of Cube enthusiasts have made modifications to their machines. Some of the more popular upgrades are high performance video cards (complete with ductwork to allow the GPU fan to work correctly in the small Cube case) and third-party CPU upgrade cards (up to 1.8 GHz per Aug. 2005); a few people have even modified their Cubes to take a dual-processor upgrade. A popular upgrade is the Geforce 2 MX, which exists in a version specially created for the Cube. Other popular changes include case modifications such as lighting and extra cooling. The Cube uses the same memory and hard drive components as a traditional desktop machine and these upgrades were common. Although the Cube uses a fanless convection-based cooling system, the mounting points for a standard desktop cooling fan are already in place. Upgraders of the Cube often take advantage of this to add a cooling fan to the system.
G4 Cube as an art piece
G4 Cube and its peripherals were showcased in The Museum of Modern Art, as well as in Digital Design Museum (a division of Design Museum).
Initial production of G4 Cube cases have 'crack'-like mold lines which does not affect the reliability of the machine, but it had a negative impact on the artistic design that Apple had marketed.
References
Mac mini: Steve Jobs gets his Cube Back, Chuck Toporek on O'Reilly Mac Dev Center, January 2005
External links
Source:
Power Mac G4 Cube. (2008, October 11). In Wikipedia, The Free Encyclopedia. Retrieved 18:53, October 31, 2008, from http://en.wikipedia.org/w/index.php?title=Power_Mac_G4_Cube&oldid=244500888
This article is licenced under the GNU Free Documentation License
Apple Power Mac G4 Cube Ad
httpv://www.youtube.com/watch?v=EuJvwvome1o
httpv://www.youtube.com/watch?v=4-PB86oy044
httpv://www.youtube.com/watch?v=D0NbGbZBPL0
Macworld New York 2000 – Presentation of the G4 Cube