Michael Spindler was the CEO of Apple Computer from 1990 to 1993. During his tenure at the company, Spindler oversaw a number of significant changes at Apple, including the introduction of new products and a shift in the company's focus towards enterprise customers.
Born in Berlin in 1942, he lived through all the transformations of the computer world, from the birth of mainframes to the advent of personal computers, and even the development of the first mobile devices. Hired by Mike Markkula in 1980, he climbed all the ranks of Apple's organization chart, until he succeeded John Sculley as CEO.
Michael Spindler began his career at Siemens in 1966 after graduating from the prestigious Rheinische Fachhochschule in Cologne as an electrical engineer. Tired of working on such technical aspects as tape controllers for mainframes, he wanted to get closer to the customers and joined Schlumberger's British telemetry subsidiary.
He returned to Munich in 1970 to take on the role of salesman at DEC, which was then competing with IBM in the minicomputer market. The story goes that he earned the nickname "Diesel" at the time because he was big and strong, grunted more than he spoke, and worked tirelessly from dawn to dusk. But this is just a story, probably invented in the 1980s, and repeated ad nauseam despite the denials of the person concerned.
After seven years at DEC, he knows how to manage teams and set up long-term strategies, but he also knows that the microcomputer will dethrone the minicomputer. Spindler left Munich for Brussels, where he became head of European marketing for Intel. There he met Mike Markkula, who had been advising Steve Jobs and Steve Wozniak for a long time, and was about to take over Apple himself.
It was 1980, and Spindler took over as head of marketing for Apple's small European office. Legend has it that he went without a salary for a good six months while the company opened a European account. Apple Europe moved to Paris the following year, and Spindler distinguished himself with original and aggressive campaigns that got him noticed in Cupertino.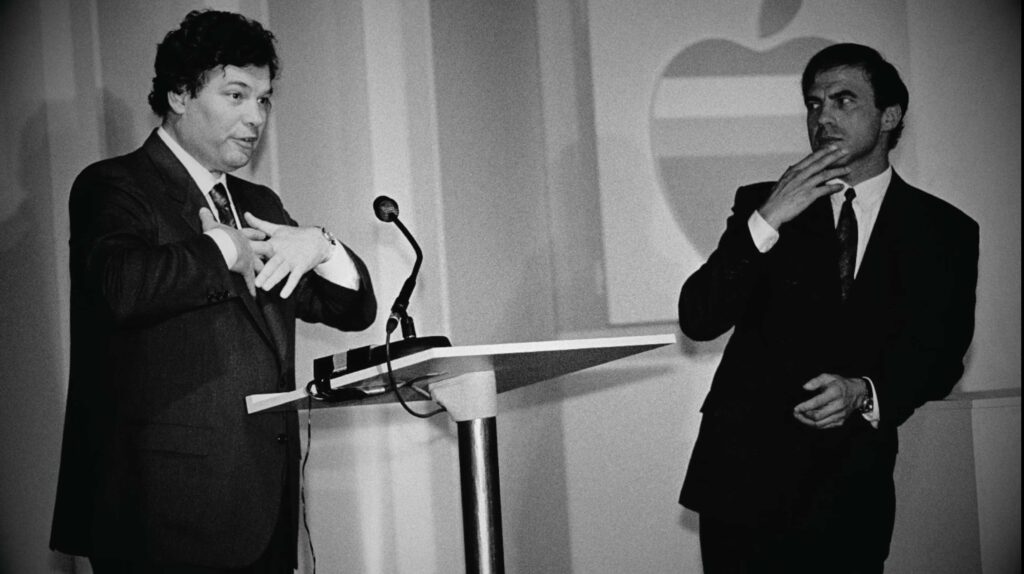 Mike Markkula wanted to return to his golden retirement, financed by the stock options he had received at Fairchild and Intel but did not intend to hand over the reins to the young and capricious Steve Jobs. Apple recruited John Sculley, the CEO of Pepsi, whom Jobs finally convinced with a formula that went down in history.
A talented strategist who had put Pepsi back on the map, Sculley appreciated Spindler's talent, and even more so what he perceived as a lack of ambition. In 1983, Sculley promoted Spindler to executive vice president of marketing, reporting to Del Yocam, who had just taken over as head of the Apple II group. Spindler then showed the best, but also the worst, of himself.
The best first: with one heart in Cupertino and the other in Louveciennes, to paraphrase his famous aphorism, he encourages the internationalization of the company. Local subsidiaries operate as independent companies, which can create their own campaigns and even design their own products, like KanjiTalk, which made the Mac popular in Japan.
Then the worst: beset by panic attacks, Spindler struggles to express himself clearly, when he doesn't run away from his responsibilities. The anecdote is famous: newly appointed director of Apple USA, Allan Loren wanted to introduce himself to Spindler, but couldn't find him at his desk. A few minutes later, Spindler comes out of his office and shakes hands with Loren – had he been hiding in his closet?
The complexities of Spindler's career are then confused with the complexities of Apple's procrastination. The contenders to succeed John Sculley were disqualified one after the other: Del Yocam because he was an authoritarian and brittle COO, Jean-Louis Gassée. He spent tens of millions of dollars looking for technological dead ends, Allan Loren because he was unable to turn Apple USA around.
Spindler was appointed head of Apple Europe. He implements his "global-local" strategy, harmonizing the offer and the prices while letting each country adapt its message, and triples the turnover in two years. His fortune was strengthened by the disgrace of his competitors: he became COO in 1990, pushed Jean-Louis Gassée out of the company, and finally reached the highest level of responsibility when Sculley was fired in 1993, due to strategic errors.
One of Spindler's major merits was his efforts to expand Apple's product line and increase its market share. During his time as CEO, Apple introduced several new products including the Macintosh LC, Macintosh Quadra, and the Macintosh Performa. These products were designed to appeal to a wider range of customers and helped to broaden Apple's customer base.
Another of Spindler's merit was his attention to the enterprise market. He acknowledge the enterprise market was an important area of growth for Apple and he focused on expanding Apple's presence in this market. He attempted to build stronger relationships with business customers and to develop new software and services that would appeal to enterprise users.
However, Spindler also faced a number of challenges during his tenure as CEO. One of the major weaknesses was that he faced criticism for his lack of focus on the consumer market. The competition was stronger in consumer market and Apple was facing tough competition from companies such as Dell, Compaq and IBM in the personal computer market.
Additionally, during his tenure, the company faced financial struggles, causing profits to decline. This led to a series of cost-cutting measures and layoffs at the company, which further damaged morale among employees and customers.
Ultimately, Spindler was replaced as CEO by Gil Amelio in 1993, who was tasked with turning around the company's fortunes. While Spindler's tenure as CEO was marked by both successes and challenges, his efforts helped to set the stage for Apple's resurgence in the years that followed.
Father of three children, Michael Spindler lived between San Francisco and Paris with his wife. He died on September 5, 2016 after a short illness.