The Apple Macintosh revolutionized the entire computer industry by the year of 1984. Steve Jobs and his ingenious Macintosh team arranged for the computer to be used by the normal "person in the street" – and not only by experts.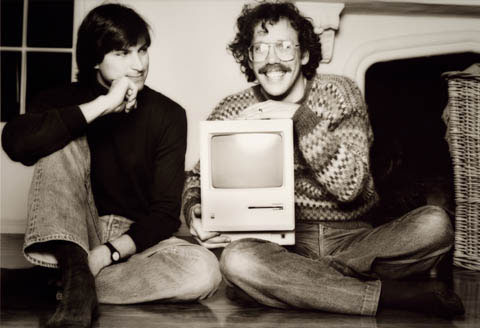 "Insanely great" – Steve Jobs could hardly put into words his enthusiasm by the launch of the Macintosh. On the legendary annual general meeting of January 24th, 1984, in the Flint Center not far from the Apple Campus in Cupertino, the Apple co-founder initially quoted Bob Dylan's "The Times They Are A-Changin'" in order to then polemicize against an imminent predominance of the young computer industry by IBM.
The early 1980s. 1981 – Apple II has become the world's most popular computer, and Apple has grown to a 300 million dollar corporation, becoming the fastest growing company in American business history. With over fifty companies vying for a share, IBM enters the personal computer market in November of 1981, with the IBM PC.

1983. Apple and IBM emerge as the industry's strongest competitors, with each selling approximately one billion dollars worth of personal computers in 1983. The shakeout is in full swing. The first major personal computer firm goes bankrupt, with others teetering on the brink. Total industry losses for 1983 overshadow even the combined profits of Apple and IBM.

It is now 1984. It appears that IBM wants it all. Apple is perceived to be the only hope to offer IBM a run for its money. Dealers, after initially welcoming IBM with open arms, now fear an IBM dominated and controlled future and are turning back to Apple as the only force who can ensure their future freedom.

IBM wants it all, and is aiming its guns at its last obstacle to industry control, Apple. Will Big Blue dominate the entire computer industry? The entire information age? Was George Orwell right?
The crowd, among them the complete Macintosh developer's team, shouted back: "Nooooo!"
There had been only two milestone products so far: the Apple II in 1977 and the IBM PC in 1981, Jobs continued. "Today (…) we are introducing the third industry milestone product, the Macintosh. Many of us have been working on Macintosh for over two years now and it has turned out insanely great."

Steve Jobs
Taking a look at the history of the personal computer today, Steve Jobs was on the right track with his historical comparison. However, it would not be IBM that became the great dominator of the computer industry over the years, but rather, the alliance of Microsoft and Intel.
Previous to the Macintosh developer team, others had already tried to design a computer with a mouse and a graphical user interface – one year before Apple did, with its own business computer Lisa, which retailed for 10,000 dollars.