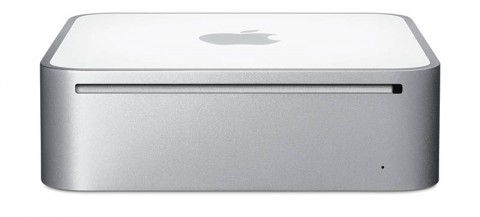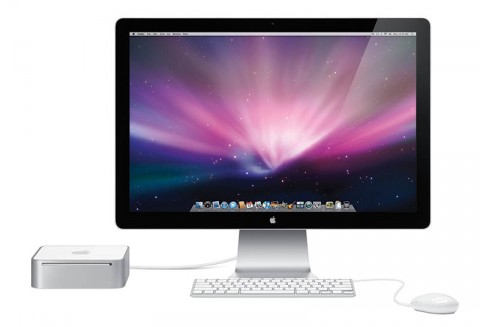 On March 3, the Mac mini was refreshed with new hardware features after 19 months, including:
New Intel Core 2 Duo processors, running at 2.0GHz (P7350) as standard, or built to order with a 2.26GHz (P8400). The P8400 supports Intel VT (VT-x) while the P7350 does not.
1GB (one 1GB) RAM on base model, or 2GB (two 1GB) of 1066MHz DDR3 SDRAM on two SO-DIMMs, upgradeable to 4GB.
A 120GB or 320GB internal 5400-rpm SATA hard drive, with 250GB optional on the base model.
A nVidia GeForce 9400M graphics processor with 128MB or 256MB shared with main memory. (1GB of RAM installed gives 128MB VRAM and 2GB of RAM installed gives 256MB VRAM.)
The Combo drive was eliminated from the base model and replaced with a dual-layer 8× SuperDrive as standard. The SuperDrive now uses a SATA connection.
The FireWire 400 port was replaced with a FireWire 800 port.
A fifth USB port added.
The DVI port was replaced with a mini-DVI port.
A mini-DVI to DVI-D adapter is included. A mini-DVI to VGA adapter is available.
A Mini DisplayPort was added in addition to the Mini-DVI port. This now allows the Mac mini to work with the new 24″ Apple LED cinema display directly and the 30″ HD Cinema Display using a mini DisplayPort to dual-link DVI adapter.
Both mini-DVI and mini-DisplayPort connections can be used concurrently for mirroring or extending.
Apple Remote no longer included but still available.
Updated firmware to allow support of wireless Remote Install Mac OS X.
The 2007 Mac mini did not offer 802.11n support, but the 2009 revision does. The Mac mini now has a 1066MHz front side bus and nVidia 9400M graphics, identical to the nVidia 9400M graphics chipset and 1066MHz front side bus found in all of the 'unibody' MacBooks that were introduced in October 2008.
Photos: Apple
Source:
Mac Mini. (2009, March 9). In Wikipedia, The Free Encyclopedia. Retrieved 20:43, March 9, 2009, from http://en.wikipedia.org/w/index.php?title=Mac_Mini&oldid=276086108
This entry is published under the GNU General Public License.