Reprinted from Byte, issue 8/1984, pp. 238-251.
The Apple Macintosh computer
Few computers – indeed, few consumer items of any kind – have generated such a wide range of opinions as the Macintosh. Criticized as an expensive gimmick and hailed as the liberator of the masses, the Mac is a potentially great system. Whether it lives up to that potential remains to be seen.
Personally, I think the Macintosh is a wonderful machine. I use one daily at work, and then at night I play with the one I have at home. Or, at least, I try to play with it. You see, my wife – who for years resisted all my attempts to introduce her to computers – has fallen in love with the Mac (her words, not mine). She uses it to type up medical reports, notes on her clients, and personal letters. In fact, she's suggested that we get a second Macintosh so that we won't have to fight over the one we have.
The Macintosh is not without its problems. Resources are tight – it needs more memory and disk space – and software has been slow in coming to market. Many have criticized its price ($2495). In fact, there are indications that Apple considered a lower price ($1995) and then rejected it. It doesn't seem to have hurt the Mac's market – people are still buying them faster than Apple can make them – but there's the potential for backlash if the machine doesn't deliver on all its promises.
Whatever its problems and limitations, the Mac represents a breakthrough in adapting computers to work with people instead of vice versa. Time and again, I've seen individuals with little or no computer experience sit down in front of a Mac and accomplish useful tasks with it in a matter of minutes. Invariably, they use the same words to describe it: "amazing" and "fun." The question is whether "powerful" can be added to that list.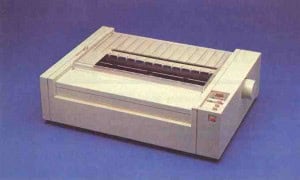 In an industry rapidly filling up with IBM PC clones, the Macintosh represents a radical departure from the norm. It is a small, lightweight computer with a high-resolution screen, a detached keyboard, and a mouse (see photo 1). It comes with 128K bytes of RAM (random-access read/write memory), 64K bytes of ROM (read-only memory), and a 400K-byte 3?-inch disk drive. If you throw in an Imagewriter printer (see photo 2 and figure 1) the system costs $2990. The processor is a Motorola 68000, running a name-less operating system (see the text box, "A Second Opinion" on page 248 for a fit description). It has absolutely no IBM PC/MS-DOS compatibility, and it would appear Apple plans none.