2010
Steve Jobs introduces the iPad in San Francisco on January 27, 2010. Apple was not the first company to launch a tablet computer. But unlike the flops that Microsoft CEO Bill Gates, for example, experienced with his attempts in the 1990s, the iPad scored a great success right off the bat when it was launched on April 3, 2010.
Then, on June 7, 2010, the iPhone 4 makes its debut (market launch June 24). Even though the new design of the antenna caused reception problems with a certain grip position, this device also became a box office hit.
In October 2010, Apple's stock broke through the $300 threshold for the first time.
2011
Steve Jobs again announces time off for medical reasons in an e-mail to his team on January 17, 2011. Tim Cook takes over the day-to-day business. However, Jobs interrupts his time off three times: On March 2, he presents the iPad 2, with which Apple continues its triumphal march in the tablet computer segment. At WWDC 2011, he presents the concept of iCloud to developers in June 2010 and, one evening later, presents the plans for a new headquarters, Apple Campus 2, to the Cupertino Council.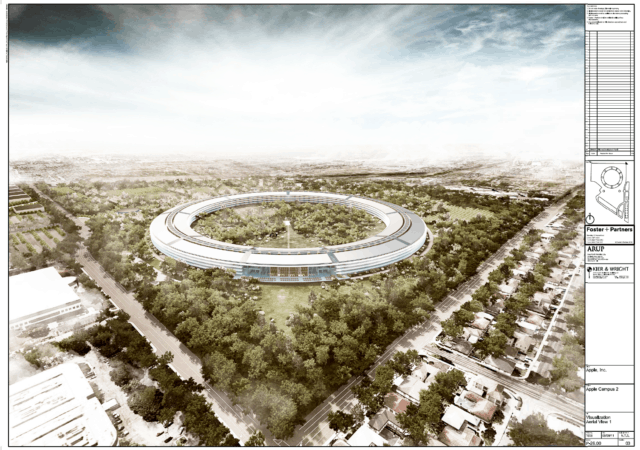 October 4: Tim Cook and Phil Schiller present the iPhone 4S at the "Let's Talk iPhone" event, but not the iPhone 5 with a new design that many fans had been expecting. The new iPhone is significantly faster than the iPhone 4 and includes the novel voice recognition and voice control software Siri. Externally, however, it resembles the design of the iPhone 4.
October 5, 2011: Apple co-founder Steve Jobs dies at the age of 56.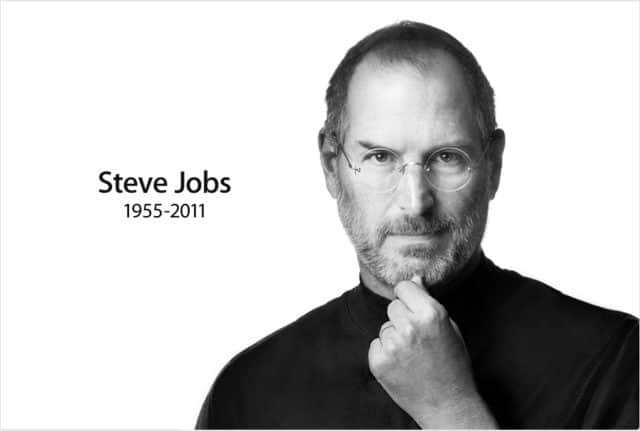 Five days after Jobs' death, Apple overtakes oil multinational Exxon Mobil as the world's most valuable publicly traded company.
2012
January 19, 2012: Apple wants to turn around the education market in the U.S. with a broad-based campaign. Digital textbooks on the iPad are to replace traditional books in schools and universities
March 7, 2012: Tim Cook, as Apple's new CEO, unveils the third-generation iPad in San Francisco. The new iPad, according to Apple's marketing parlance, differs from the iPad 2 primarily in its higher-resolution display (2048 × 1536 pixels), more computing power and LTE data transmission technology. However, the LTE technology cannot be used in Germany because the frequency bands used for LTE in this country are not supported. However, the also newly installed UMTS extension HSPA+ is also available in Germany.
July 25, 2012: Apple unveils the new Mac operating system OS X Mountain Lion (10.8) at the WWDC developer trade show.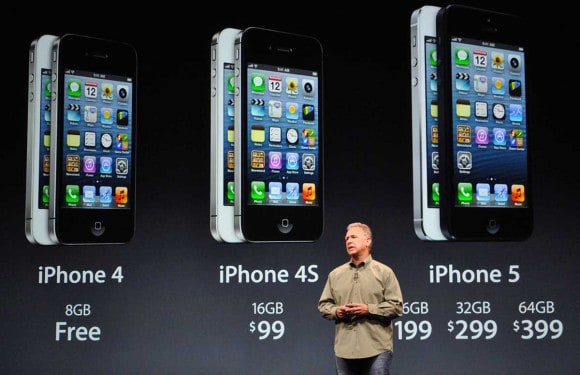 September 12, 2012: Phil Schiller and Tim Cook present the new iPhone 5, which runs iOS 6. On September 21, 2012, the new iPhone generation is launched in Germany and on September 28, 2012, in Liechtenstein, Austria and Switzerland.
October 23, 2012: Apple introduces the fourth iPad generation ("iPad with Retina display"). In addition to the high-resolution Retina display, the new iPad will be equipped with an A6X chip from Apple. The classic iPad connector will be replaced by a Lightning connector. The devices will be launched on November 2 in 35 countries, including the US, Germany and the UK.
October 26, 2012: Apple was able to increase its revenue to $36 billion in the fourth quarter of its fiscal year, which ended at the end of September, from $28.3 billion a year earlier. Net income grew to a handsome $8.2 billion ($8.67 per share) from $6.6 billion a year earlier. Nevertheless, the stock market is not satisfied, because investors had expected even more sales and profits. The share price is hovering around 600 dollars.
2013
January 25, 2013: Apple terminates supplier in China because of too young workers. Apple CEO Tim Cook thus fulfills his promise to pay more attention to working conditions at suppliers. In 2012, there were more inspections. In the process, more than 70 workers under the age of 16 were also discovered in a factory in China.
January 25, 2013: Apple stock slips: oil major ExxonMobil is again most valuable company.
February 11, 2013: First hints in the U.S. press (NYT and WSJ) of a computer watch from Apple.
March 20, 2013: Apple hires away the former chief technology officer of software specialist Adobe, Kevin Lynch. It is later revealed that he will be in charge of the Apple Watch program.
April 2, 2013: after a campaign in state media in China for "arrogance," Apple CEO Tim Cook must publicly apologize to Chinese customers. The kowtowing later pays off. On December 23, 2013, it is reported that the iPhone is coming to the world's largest mobile group, China Mobile.
April 17, 2013: Stockbrokers' worries about weak iPhone and iPad sales send Apple's stock plunging to its lowest level in more than a year. The paper is trading down 6 percent at $398.11 in New York. The last time the paper had previously been below the prominent $400 threshold was in December 2011.
April 23, 2013: Apple posts its first profit decline in nearly a decade after an unprecedented run of success. The iPhone company still posted the fourth-highest quarterly profit in its history at $9.5 billion (7.3 billion euros). In a year-on-year comparison, however, that meant a drop of a good 18 percent.
May 1, 2013: A veritable rain of money is descending on Apple. Through the sale of bonds, the iPhone and iPad manufacturer has raised a total of 17 billion dollars (13 billion euros), more than any other U.S. company before in one fell swoop. The money is to be used to buy back the company's own shares and to pay dividends. Thus Apple wants to boost its weakening share price.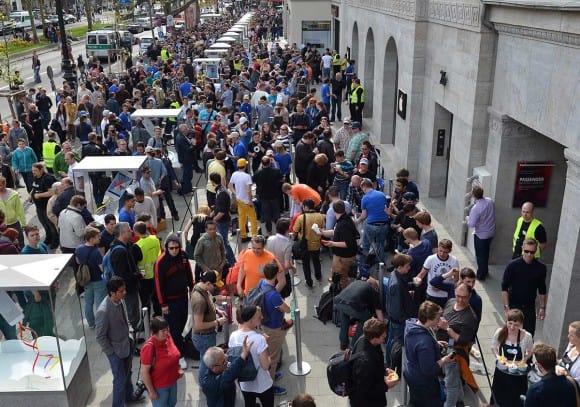 May 3, 2013: After two years of construction, Apple opens the first Berlin Apple Store and the largest customer support center in Europe on Kurfürstendamm. The listed building had been built in October 1913 as one of the first cinemas in Berlin. The renovated cinema hall of the former Union-Palast not only hosts customer events, but also concerts and cultural events.
May 21, 2013: Apple avoided billions of dollars in tax payments in the U.S. and other countries through a complex network of foreign companies, according to a U.S. Senate investigation. A Senate committee concludes that Apple's clever system meant it had no tax liability anywhere on much of its revenue. The corporation insists it always acts within the law.
June 3, 2013: Apple faces charges of illegal price fixing on e-books in a New York court. According to the U.S. Department of Justice, Apple and five U.S. publishers artificially pushed through higher prices for digital books at the launch of the iPad tablet, to the detriment of consumers. The publishers have since entered into multi-million dollar settlements with the U.S. government, with only Apple continuing to defend itself against the allegations.
June 10, 2013: At its WWDC 2013 developer conference, Apple is declaring war on its rivals in the smartphone market with radically revamped iPhone software. The new version iOS 7 is the biggest change since the launch of the iPhone in 2007, said Apple CEO Tim Cook. With iOS 7 comes numerous new features and a significantly changed look. Among the other WWDC announcements are a complete redesign of the Mac Pro professional computer, a new version of the Mac OS X system and an Internet radio for listening to music over the Internet. Some innovations seem like a counter to Google's world-leading smartphone system, Android.
September 10, 2013: Apple launches a slightly cheaper new iPhone for the first time in addition to a top-of-the-line model. The company unveiled the iPhone 5C at its annual smartphone event, featuring a plastic body in bright colors. Together with a new top model, it replaces the year-old iPhone 5 on September 20. The top version, called iPhone 5S, can now recognize users by their fingerprint. For this purpose, a scanner is hidden in the typical round button under the screen.
October 15, 2013: From British elegance to iPhones and iPads: Angela Ahrendts, the head of the fashion brand Burberry will in future lead the more than 400 Apple stores. Angela Ahrendts is moving to Apple in the spring. She will report directly to company CEO Tim Cook and also oversee the online stores. The head job at Apple's retail division had been vacant for about a year after Ahrendts' predecessor John Browett was fired after just a few months. Ahrendts announced in February 2019 that she would be leaving Apple again.
October 22, 2013: Apple defends its top position in the tablet market with a new iPad generation. The large model was made much thinner, lighter and more powerful. That's why it got the new nickname iPad Air. Externally, the large model has been adapted to the design of the smaller iPad mini with narrow side edges. It is now only 7.5 millimeters thick instead of 9.4 millimeters before. The weight has been reduced from 700 to 500 grams. The price starts at $499, as before. Market launch is on November 1. As expected, the iPad mini has been upgraded with a higher resolution display. It now has as many pixels in the screen as the large model. Both versions got the same fast chip that Apple puts in its flagship iPhone 5s smartphone. The price of the most basic model of the iPad mini rose from $329 to $399 with the upgrades.
October 28, 2013: The new iPhone models are boosting Apple's business again. In the fourth fiscal quarter from July to September 2013, revenue rose 4 percent to $37.5 billion. However, profits fell for the third time in a row, also due to higher development and marketing costs. Compared to the same period last year, Apple lost 9 percent here to a bottom line of $7.5 billion.
November 21, 2013: In the permanent patent case against Samsung in California, Apple gets a large part of the high damages payment confirmed. The original sum of just over one billion dollars decreased after a second trial by about 100 million. Samsung had demanded a drastic reduction. However, an appeal is still pending. If the verdict becomes final, Samsung would have to transfer a total of just under $930 million to Apple. In the second trial, which concluded Thursday, jurors awarded Apple about $290 million – significantly less than its original demand for billions in damages.
December 12, 2013: the Seoul Central District Court dismisses a damages lawsuit filed by the world's largest smartphone maker, Samsung, against Apple. In the case, Samsung had accused the iPhone company of infringing three patents on technologies for mobile short messaging applications.
2014
January 24, 2014: At Wall Street Journal, the first rumors emerge that Apple plans to build a larger iPhone.
February 10, 2014: The showdown between Apple CEO Tim Cook and major shareholder Carl Icahn for Apple's annual shareholder meeting is called off. Icahn drops his demand that Apple increase its ongoing share buyback to $50 billion this fiscal year. He had previously faced headwinds from an influential shareholder advisory group.
February 28, 2014: In the long-running dispute over patents in the mobile phone industry, the Mannheim Regional Court dismisses a billion-dollar lawsuit against Apple. Another chamber of the court came to the same conclusion in a similar case against cell phone manufacturer HTC, in which no damages had yet been claimed, only a finding of patent infringement. The losing patent exploiter IPCom immediately announced its appeal against these rulings.
March 31, 2014: Apple and Samsung's second major patent trial in the U.S. begins in San Jose, California. Apple accuses Samsung of infringing five patents in the case. Among the ten devices affected by the South Korean smartphone market leader is the Galaxy S3 smartphone. Samsung, in turn, is taking aim at nine Apple models with two patents, including the iPhone 5 and iPad 4.
April 23, 2014:The iPhone is holding its own against growing competitive pressure, giving Apple renewed gains in revenue and profit. The company sold 43.7 million of its smartphones in the second fiscal quarter of 2014 (January-March). That was more than most analysts had expected. As a result, revenue in the second fiscal quarter ended March rose 4.7 percent year over year to $45.6 billion. Net income for the quarter was $10.2 billion. That was seven percent higher than in the year-ago quarter.
May 3, 2014: Apple also scores a win in its second patent trial against Samsung in California, but gets much less money than it asked for. Jurors award the iPhone company just under $120 million. Apple wanted a good 2.2 billion dollars in damages. The jury found two of five Apple patents in the trial not infringed. The first California patent trial had ended much better for Apple. In it, jurors had awarded Apple around $1 billion in damages in August 2012. The sum was later reduced to $930 million. All of Samsung's accusations were dismissed. However, the appeal is still pending.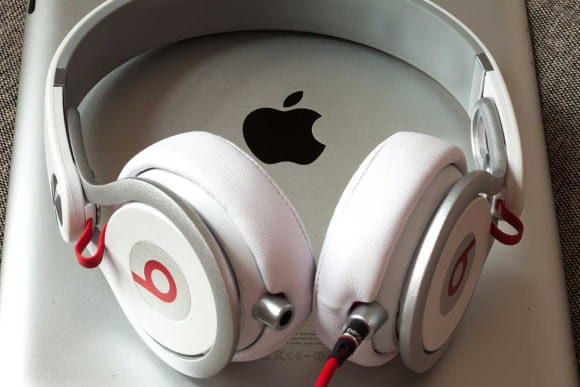 May 28, 2014: Apple buys headphone maker Beats for a total of three billion dollars. Beats' founders, hip-hop star Dr. Dre and influential music producer Jimmy Iovine, will join Apple's top management team. Beats is known for its headphones with the distinctive red "b" and also recently launched a streaming service for music.
July 16, 2014: Apple agrees to partner with IBM to make a stronger push into the enterprise business. More than 100 new apps for iPhone and iPad will map various business processes, the erstwhile rivals announced. IBM will also offer cloud services specifically adapted to Apple devices, as well as sell iPhones and iPads to its customers.
August 6, 2014: Apple and Samsung end their patent dispute outside the United States. Mutual lawsuits are dropped in all countries except the iPhone company's home market. This includes the proceedings in German courts. The decision comes as a surprise, although tempers had already calmed down considerably recently.
August 19, 2014: Shortly before the launch of the new iPhones, investors are tearing around Apple shares: for the first time in two years, a share certificate of the group cost more than 100 dollars again on Tuesday. In New York trading, the price climbed to 100.49 dollars. The all-time high was marked in September 2012 at more than 700 dollars. However, that was before the company split its share certificates to make them more attractive to small investors. Taking into account the stock splits, the record is $100.72.
Sept. 7, 2014: Apple hires Marc Newson, a world-renowned industrial designer. Newson will join the team of Apple's chief designer Jony Ive, Vanity Fair magazine reported, citing Apple. Newson designed items as diverse as watches, jewelry, furniture, flashlights, kitchen utensils, aircraft interiors and fashion over the course of his career. Among his clients were sporting goods manufacturer Nike and automaker Ford, and some of his work is on display at the Museum of Modern Art in New York.
September 9, 2014: Apple ignites a fireworks display of new products at its traditional fall smartphone event: the company unveils a computer watch and new larger iPhones. An iPhone payment service is to replace the wallet. Group CEO Tim Cook presented the long-awaited Apple Watch, which is to take over various smartphone functions. The watch is the group's first foray into a new product category since the iPad tablet more than four years ago. Apple also unveiled two iPhone models with significantly larger screens and a mobile payment system to rival the traditional wallet.
October 16, 2014: Apple introduces an improved iPad generation. The new devices got the fingerprint sensor known from the iPhone and faster chips. The larger Apple Air 2 model was also made 18 percent thinner. It is the thinnest tablet on the market, emphasizes marketing chief Phil Schiller. The company is also introducing a new iMac desktop computer with a dramatically increased screen resolution. The iPhone payment service Apple Pay is initially launching only in the U.S.
October 21, 2014: The iPhone 6 is proving to be a money machine for Apple right from the start. Apple earned just under $8.47 billion in the 4th fiscal quarter of 2014 (July-September). That was 12.7 percent more than in the same quarter last year – the strongest growth in almost two years. The main driver was the record launch of the iPhone 6 just two weeks before the end of the fourth fiscal quarter in September. Apple also sold more Mac computers than ever before in a quarter.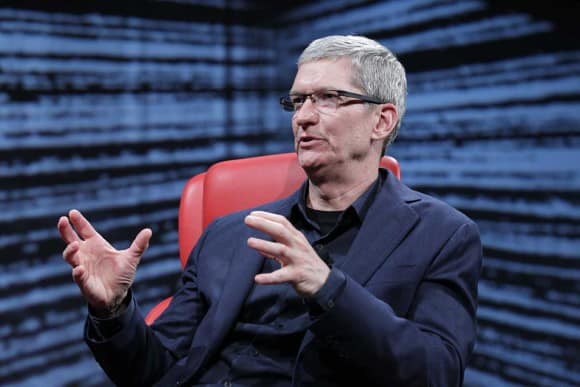 October 30, 2014: Apple CEO Tim Cook comes out as gay. "I am proud to be gay," the 53-year-old wrote in a contribution to the American business magazine "Businessweek". Many colleagues at Apple already know that, he said. He said he hopes his move will help or inspire others. Cook had never commented publicly on the matter until now.
2015
January 27, 2015: The success of the iPhone 6 and a huge boom in China give Apple a record profit of $18 billion. Never before has a company worldwide earned so much in one quarter. The group sold 74.5 million iPhones in the Christmas business – almost half more than a year ago. Revenue in the first fiscal quarter ended in late December grew nearly 30 percent to $74.6 billion. Apple profits jumped more than 38 percent year over year on the equivalent of 15.9 billion. The stock climbed to a new all-time high of $120 two days later.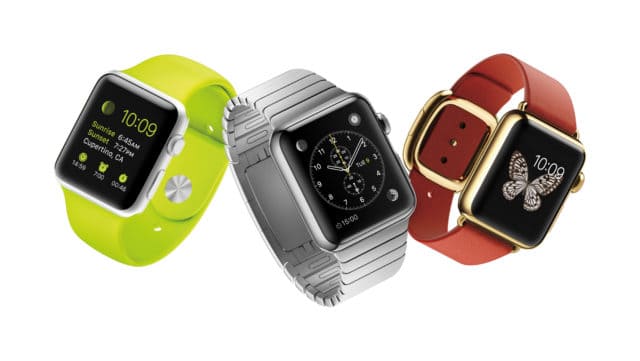 April 24, 2015: The Apple Watch smartwatch hits the market. Due to high demand and a bottleneck in the supply chain, Apple initially sells the wrist computer only online and to some select fashion boutiques.
June 30, 2015: Apple launches its own music streaming service, Apple Music. Apple also competes with providers such as Spotify and Pandora with an Internet radio service (Beats One) and a social network for music lovers and artists (Apple Connect)
September 9, 2015: At its annual iPhone event, Apple expands the way a touch-sensitive smartphone display is operated for the first time since the launch of the first iPhone in 2007. For example, the strength of the pressure in "3D Touch" can be used to call up additional information or menus. This also offers new possibilities for game developers. Externally, the new iPhone 6S and the larger 6S plus look exactly like the current 6 models. However, the technology has been greatly updated. The chips are faster, the camera now has 12 megapixels and can also record video in particularly high Ultra HD quality. In addition, the housings are made of a new aluminum alloy.
September 9, 2015: Tim Cook also presents at the iPhone event a new edition of the TV box Apple TV, on which apps from the iTunes Store can now be installed. In addition takes a large tablet computer ("iPad Pro") with a 12.9-inch Retina display in the program.
November 10, 2015: Apple is making its Apple Music streaming music service available to users of Google's Android operating system just over four months after its launch.
2016
January 26, 2016: Another record-breaking record: Although Apple was barely able to increase iPhone sales in the Christmas business. Sales increased by 0.4 percent to 76.8 million devices. That was enough, however, to achieve just under a new record profit of 18.4 billion (17 billion euros). Apple reached the mark of one billion active customers. The company is now sitting on a mountain of cash of $216 billion.
February 2, 2016: Alphabet's holding company around search engine giant Google is running away from Apple for a day as the most expensive company in the stock market world. Apple shares have been under pressure for months due to weak forecasts for future iPhone sales and reports of weaker growth in the Chinese economy. However, Apple's stock is rebounding in the spring of 2016, putting it well ahead of Alphabet again.
February 17, 2016: Apple's commitment to unbreakable encryption is being put to its toughest test yet: A U.S. court is demanding help from Apple in unlocking the iPhone of one of the San Bernardino attackers. This escalates the current debate about encryption and counterterrorism, and the corporation comes under massive pressure. Apple CEO Tim Cook announced resistance to the demand. It is an "unprecedented step that puts the security of our customers at risk," he wrote in an open letter.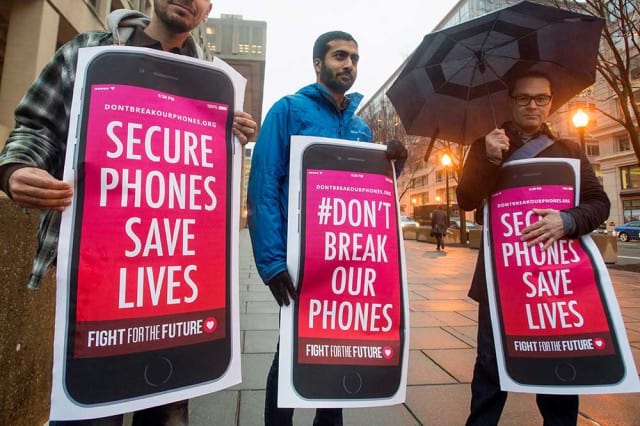 February 21, 2016: Republican presidential contender Donald Trump calls for a boycott of Apple until the corporation relents. After the FBI, the U.S. Department of Justice is also demanding that Apple help investigators undermine the phone's password protection. IT groups such as Alphabet/Google, Microsoft, Facebook and Twitter are showing solidarity with Apple.
March 21, 2016: Apple is softening its long-standing high-price strategy in the smartphone business, introducing a new smaller iPhone with up-to-date technology for the first time. The iPhone SE looks like the iPhone 5 on the outside – but incorporates various technologies from the current larger 6-series models, such as the faster processor, a 12-megapixel camera and an NFC chip for, among other things, mobile payment systems like Apple Pay. Apple is also introducing a small iPad Pro with a 9.7-inch display, making it the same dimensions as the iPad Air 2.
March 29, 2016: The sensational dispute between Apple and the U.S. government over unlocking the iPhone of a dead assassin is over for now. Investigators have succeeded in obtaining the data on the phone, assistance from Apple is no longer needed, court documents say. Presumably, the FBI, with the help of a company from Israel, used a zero-day security flaw to crack the iPhone %C
May 13, 2016: Apple is making a $1 billion (880 million euro) investment in Chinese Uber rival Didi Chuxing. The strategic investment is a coup for the Chinese ride-hailing service provider, which is in hot competition with U.S.-based Uber in the fast-growing Chinese market.
August 30, 2016: Apple is facing an unprecedented back tax payment of more than 13 billion euros after a decision by the EU Commission. The iPhone group had received illegal tax benefits in Ireland in this amount, decided the European competition watchdogs. Ireland would have to reclaim the illegal aid for the years 2003 to 2014 now plus interest. Apple and Ireland want to defend themselves against the decision.
September 8,2917: Apple introduces the iPhone 7, a new waterproof model without the familiar earphone jack. In addition, after almost a year and a half, there is the second version of the Apple Watch, which is even more focused on sports and fitness.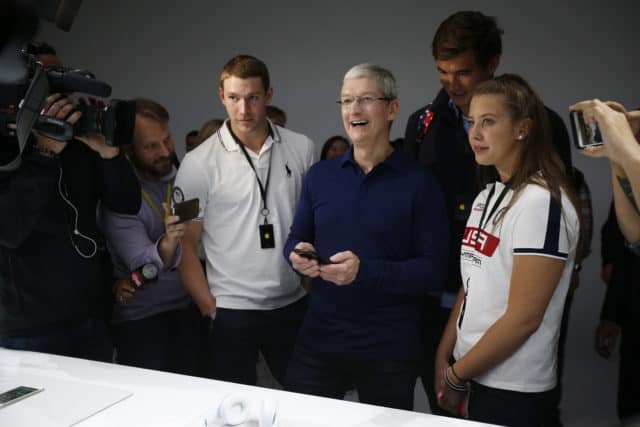 28. Oktober 2016: Apple präsentiert eine neue Generation des MacBook Pro. In dem Notebook wird die Reihe der Funktionstasten durch eine schmale Touchscreen-Leiste ersetzt. Dort werden verschiedene Buttons und Bedienelemente passend zur aktuellen Anwendung eingeblendet.
19. Dezember 2016: Apple und Irland ziehen wie angekündigt gegen die geforderte Steuernachzahlung von mehr als 13 Milliarden Euro vor Gericht. Das irische Finanzministerium erklärte, die EU-Kommission habe die relevanten Fakten missverstanden und mische sich in die nationale Souveränität in Steuerfragen ein.Apple-Finanzchef Luca Maestri warf EU-Wettbewerbskommissarin Margrethe Vestager vor, eine politische Agenda zu verfolgen.
2017
22. Januar 2017: Apple verklagt den Chipkonzern Qualcomm, der in vielen Smartphones für die Funkverbindung sorgt. Qualcomm verlange viel Geld für Patentlizenzen, lautet ein Vorwurf. Außerdem halte die Chipfirma eine Milliarde Dollar an Provisionen als Strafe für die Kooperation Apples mit Behörden in Südkorea zurück, heißt es in der Klage. Qualcomm weist die Vorwürfe zurück.
1. Februar 2017: Apple legt eine glänzende Bilanz für das Weihnachtsquartal 2016 vor: Das iPhone 7 macht das Unternehmen zum Smartphone-Marktführer. Apple verkaufte in dem Quartal 78,3 Millionen iPhones. Das war ein neuer Spitzenwert nach rund 74,8 Millionen Geräten im vergangenen Quartal. Der Umsatz stieg nach monatelangen Rückgängen um 3,3 Prozent auf 78,4 Milliarden Dollar.Die guten Zahlen treiben auch den Aktienkurs in die Höhe.
15. April 2017: Apple erhält die Erlaubnis für Tests selbstfahrender Autos auf öffentlichen Straßen in Kalifornien. Es bleibt aber weiterhin unklar, wie tief der Konzern ins Geschäft mit der Mobilität der Zukunft vorstoßen will. Apple ist das 30. Unternehmen, dem im bevölkerungsreichsten US-Staat eine solche Lizenz ausgestellt wurde.
23. Mai 2017: Nokia und Apple legen ihren Patentstreit bei und unterzeichnen ein mehrjähriges Lizenzabkommen. Nokia wird danach eine Vorab-Zahlung und regelmäßig weitere Beträge während der Laufzeit des Vertrags erhalte. Weitere finanzielle Details wurden nicht bekannt. Die Konzerne wollen in Zukunft enger zusammenarbeiten, unter anderem sind "Gipfeltreffen" des Top-Managements geplant.Im Dezember hatten Nokia und Apple mit heftigen gegenseitigen Vorwürfen einen neuen Patentstreit losgetreten.
12. September 2017: Apple kündigt im Steve-Jobs-Theater auf dem neuen Firmencampus Apple Park gleich zwei neue iPhone-Generationen an. Apple will mit einem radikal erneuerten iPhone einen neuen Standard im Smartphone-Geschäft setzen. Beim iPhone X (steht für 10, nicht den Buchstaben X) füllt der Bildschirm den Großteil der Frontseite aus und der Fingerabdruck-Scanner wurde durch Gesichtserkennung abgelöst. Mit einem US-Startpreis von 999 Dollar ist es deutlich teurer als bisherige iPhone-Modelle und kommt am 3. November auf den Markt. Das parallel vorgestellte iPhone 8 ist dagegen eine Weiterentwicklung des iPhone 7 mit dem gewohnten Fingerabdrucksensor "Touch ID". Außerdem präsentiert Apple die 3. Generation der Apple Watch, die mit einem LTE-Modul ausgestattet ist.
12. Dezember 2017: Apple kauft die Musikerkennungs-App Shazam. Die App kann über den Zugriff auf die Mikrofone eines Smartphones den Namen des Songs anzeigen, der gerade in der Umgebung gespielt wird. Dafür wird die Aufnahme mit einer Datenbank aus allen möglichen Musiktiteln auf den Shazam-Servern abgeglichen. Nach Informationen der "Financial Times" liegt der Preis bei 400 Millionen Dollar.
29. Dezember 2017: Nach heftiger Kritik an der Drosselung der Leistung in älteren iPhones mit abgenutzten Akkus reagiert Apple. Die Kunden mit langsamen älteren iPhones können in 2918 deutlich günstiger an neue Batterien kommen, die das Problem lösen könnten. In Europa wird ein nötiger Batteriewechsel außerhalb der Garantiezeit beim iPhone 6 und späteren Modellen bis Ende kommenden Jahres 29 Euro statt bisher 89 Euro kosten. Zugleich versicherte der Konzern, dass er "niemals" das Erlebnis der Nutzer absichtlich verschlechtern würde, um mehr neue Geräte zu verkaufen. Apple war in die Kritik geraten, weil er die Drosselung durch das Betriebssystem iOS den Kunden weitgehend verschwieg.
2018
18. Januar 2018: Apple kündigt an, nach der US-Steuerreform den Großteil seiner gewaltigen Geldreserven von mehr als 250 Milliarden Dollar ins Heimatland zu bringen. Zusätzlich zu einer beispiellosen Steuerzahlung von 38 Milliarden Dollar (knapp 31 Mrd Euro) stellte der Konzern massive Investitionen in den USA und einen neuen großen Standort außerhalb Kaliforniens in Aussicht. Zu diesem Zeitpunkt lagerte Apple einen Geldberg von gut 252 Milliarden Dollar außerhalb der USA. Konzern-Chef Tim Cook sagte dem Sender ABC, dass ein "überwiegender Großteil" dieser Auslandsgewinne nach Amerika gebracht werde. Die Höhe der erwarteten Steuerzahlung legt nahe, dass der Konzern nur wenig davon im Ausland lassen will. Die EU-Kommission betonte, der Schritt ändere nichts an der Forderung, Apple solle mindestens 13 Milliarden Euro Steuern in Irland nachzahlen. US-Präsident Donald Trump verbuchte die Apple-Entscheidung schnell als seinen Verdienst.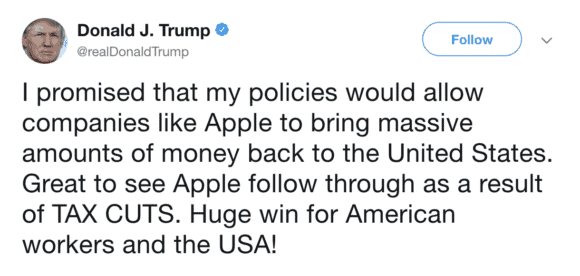 https://twitter.com/realDonaldTrump/status/953771038114045954
February 9, 2018: Apple is launching its HomePod connected speaker, entering a market previously occupied by Sonos, Amazon and Google. Similar to its competitors, the HomePod can play music and respond to voice commands. However, the HomePod is said to score with users with better sound quality than its rivals.
March 27, 2018: Apple is looking to gain a stronger foothold in schools with an improved model of its iPad tablet. The device now also supports the Apple stylus, which previously only worked with the more expensive Pro models, the company announced at an event in Chicago. The new iPad version will be sold in Germany from 349 euros and is thus 50 euros cheaper than the previously cheapest iPad. For educational institutions set Apple a price of 335.58 euros. In the U.S., the starting price remains at $329 for consumers and $299 for schools. There is also new software that teachers can use to work digitally with their classes.
May 25, 2018: Late victory in patent dispute with Samsung: the Koreans must pay Apple some $539 million (about 460 million euros) for copying the iPhone's design in the two smartphone giants' years-long patent battle, according to a new court ruling. The jury thus boosted an original amount of $399 million contested by Samsung in 2012. Samsung had taken the case all the way to the U.S. Supreme Court. That found fault with the original decision and sent the case back for a new trial in district court. This time, jurors were asked to decide whether Apple was entitled to all profits from the sale of a device because design patents had been infringed – or just a portion. They put the total in the middle of the possible range. The bulk of it is $533.3 million for infringement of three patents on 16 Samsung devices. Another $5.3 million was added for infringement of two more patents on four smartphones.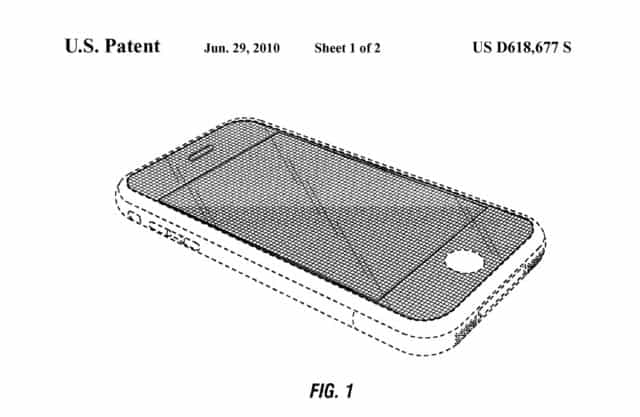 June 28, 2018: Apple and Samsung settle their tough patent dispute in the US after more than seven years. The terms of the out-of-court settlement were not disclosed. The California judge in charge of the case, Lucy Koh, ordered the case to be dismissed. The two companies did not comment on the settlement. Apple only referred to an earlier statement from May 2018, at which time the group had reiterated that Samsung had copied the iPhone design and that the case was about more than just money.
August 1, 2018: Apple announces the launch of Apple Pay in Germany.
The service will be launched "by the end of the year," group CEO Tim Cook said in an analyst conference to present recent quarterly figures. September 12, 2018:
At the traditional presentation of new iPhone models, Apple introduces three devices at once. In addition to the iPhone XS and XS Max, there is also a new iPhone XR. It is not quite as expensive as the two top models, but it also does not have an OLED screen. Also, the main camera has only one lens instead of two on the XS models.
October 3, 2018: Apple's stock hits an all-time high of $233.47 on the stock market. The weeks and months later, the price sinks again significantly. On the one hand, technology stocks are under pressure. On the other hand, it is becoming apparent that Apple will sell fewer iPhones in the 2018 Christmas quarter than the year before. In addition, business in China is suffering.
October 5, 2018: Apple denies a report by Bloomberg news agency that spy chips from China were installed on servers at Apple data centers.
January 2, 2019: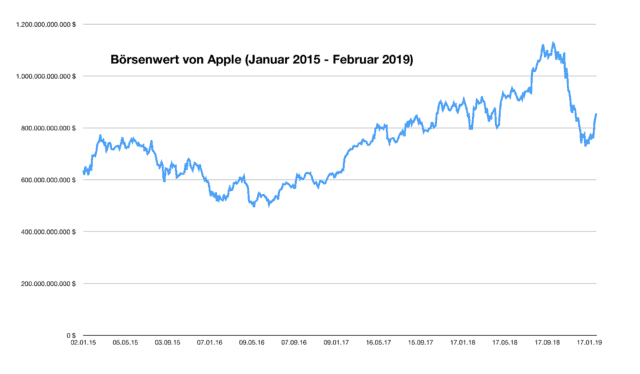 Apple CEO Tim Cook issues a profit warning in a letter to investors.
January 29, 2019: Apple admits in presenting its official quarterly figures that the iPhone isn't selling as well as it used to, but the company is still coming up with its usual billions in profits. That's thanks to other products from the iPad to the Apple Watch, as well as its business providing services to existing customers.
March 15, 2019: Chip company Qualcomm wins a key trial in the U.S. in its global patent dispute with Apple Apple. Jurors in California concluded that Apple infringed three of Qualcomm's patents, and awarded the chip company about $31.6 million.
March 18, 2019: Apple is launching the seventh generation of its iPad tablet computer. In addition to a new iPad Air with a 10.5-inch screen size,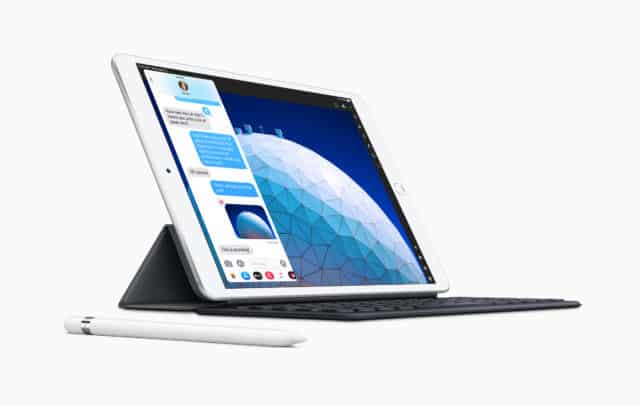 Both devices use the Apple designed A12 Bionic chip, which is said to make the devices significantly faster compared to previous models. The iPad Air is said to achieve a 70 percent increase in performance and double the graphics performance, while the iPad mini Apple even promises a tripling of performance. In the iPad Air, the display has also been enlarged.
April 17, 2019:
Apple and chip specialist Qualcomm settle their bitter patent dispute after more than two years. The iPhone company will acquire a patent license and also purchase chips from Qualcomm. In addition, Qualcomm gets a payment from Apple, the amount initially remained unknown.
The settlement was announced in the middle of the pivotal trial in the dispute – while lawyers were still exchanging blows in court. A few hours later, Qualcomm rival Intel announced it was exiting the smartphone modem chip business.
April 30, 2019:
Apple s quarterly figures beat stock market expectations. The iPhone company is also distributing another $75 billion to investors via a share buyback. While there were year-over-year revenue declines in the iPhone and Mac computers, the company's business in iPads, devices such as computer watches and earbuds devices, and online services grew.
June 27, 2019:

Chief designer Jony Ive announces he will leave Apple. at the end of the year. He will start his own company, announced the iPhone maker. Apple will be among the most important clients of the new company LoveFrom. The 52-year-old Briton joined Apple in the early 1990s and has led the design team there since 1996. He is considered one of the key figures in the group. In the future, his colleagues Evans Hankey and Alan Dye are to report to board member Jeff Williams for the design team.
Jony is a unique figure in the design world and his role in Apple's revival cannot be overstated.

Apple CEO Tim Cook on Jony Ive's departure
After nearly 30 years and countless projects, I am most proud that at Apple we have created a design team, processes and culture that is second to none.

Jony Ive on his departure from Apple
September 10, 2019: Apple s new generation of iPhones is relying heavily on better cameras to boost recently slumping sales of its flagship product. The iPhone 11, which replaces the current iPhone XR as the entry-level model, gets, among other things, a night mode that is supposed to ensure good pictures in dark lighting conditions. And for the first time, even the cheapest iPhone model gets a dual camera setup that allows for wide-angle shooting, a full portrait mode and other improvements.
The successors to the current top iPhone XS and XS Max models are named iPhone 11 Pro and Pro Max. The devices are housed in a new type of stainless steel casing and now feature three cameras on the back – medium focal length, telephoto and ultra-wide angle. The new "Deep Fusion" function in the Pro models is supposed to produce particularly high-quality photos by evaluating multiple images. For this, the cameras take nine photos with different settings and put them together "pixel by pixel" to form an image
September 17, 2019: The legal battle between Apple and the EU Commission over Ireland's record 13 billion euros in back taxes is coming to a head. The iPhone group reiterates before the EU court in Luxembourg that the income of two Irish subsidiaries had been taxable primarily in the United States. The Commission accuses Apple of only causing confusion. It stressed its view that Ireland had understated taxes. Apple, on the other hand, feels it is being asked to pay twice. "Apple is now paying around 20 billion euros in taxes in the U.S. on the same profits that, according to the Commission, should also be taxed in Ireland," the U.S. company said. EU Competition Commissioner Margrethe Vestager had asked Apple in August 2016 to pay the billion in back taxes in Ireland because the country had given the group undue special treatment on tax terms.
December 10, 2019: One year after the launch of Apple Pay in Germany, significantly more consumers can use the iPhone company's mobile payment service than before. Shortly before Christmas 2019, 371 of a total of 379 German savings banks launched the service for their approximately 50 million customers. Commerzbank, Norisbank and LBBW were also added as additional credit institutions in a single sweep. Commerzbank alone has around eleven million private customers. Initially, only credit cards and debit cards issued by the banks can be integrated. A solution for the Girocard, which is very widely used in Germany and which many consumers still know under the old brand name EC card, is still in the works. It will not come until late summer 2020.
January 29, 2020: After a record Christmas 2019 with just over $22 billion in quarterly profits, Apple is having to battle turbulence from the new corona virus. Some supplier factories are located in the particularly affected region around the city of Wuhan, said company CEO Tim Cook. However, he said there were alternative sources for their products. He said it was unclear how things would develop at other suppliers, some of which had extended their usual Chinese New Year shutdown by a week. Compared to many other corporations, Apple is coming through the Corona crisis reasonably unscathed.
March 18, 2020:
Two years after its last major product offensive in the tablet computer market, Apple is introducing four new iPad models. The new iPad Pro have been equipped with a faster A12Z Bionic chip. Augmented reality (AR) applications in particular are expected to benefit from the better hardware equipment, which also includes a newly developed ultra-wide-angle camera and a new type of lidar scanner. With AR, virtual content is shown on a display mixed with the real environment. Lidar scanners, for example, are used by self-driving cars to scan their surroundings.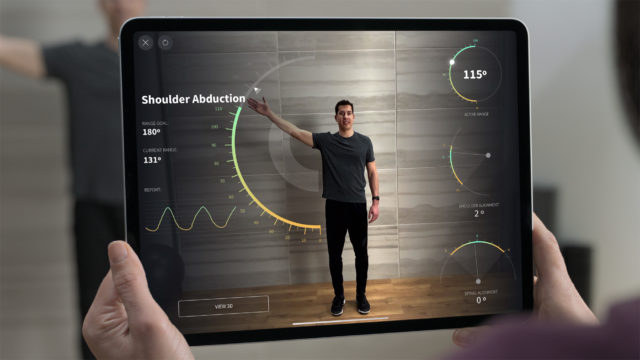 April 10, 2020: Apple and Google, as providers of the world's two leading smartphone platforms, want to make it easier to develop apps that track Corona infections. They are relying on distance detection with Bluetooth wireless technology and encryption. "User privacy and security will be at the heart of this development," the two groups said. The iOS operating system of Apple's iPhones and Google's Android system are expected to get corresponding interfaces.
The concept is to allow smartphones to exchange temporary identification numbers regardless of the operating system used, thus preserving user privacy. Apple and Google, however, want to store the contact information only on users' smartphones, not on a central server. Only when someone tests positive with Covid-19 would the information be transferred to a server, if the person agrees. The other smartphones periodically retrieve a list of the anonymized IDs of those with the disease from this concept to see if they themselves have had contact with an infected person.
Google and Apple and Google want to ensure, among other things, that the constant exchange of ID numbers does not significantly reduce the battery life of the devices. As a first step, the two companies said they would release an application programming interface (API) in May that would allow Android and iOS devices to work together using apps provided by health authorities. These official apps would be available for users to download through their respective app stores.
April 15, 2020: Apple is introducing a new smartphone amid the Corona crisis. The new entry-level iPhone SE looks exactly like the iPhone 8 on the outside, with its aluminum body and home button fingerprint reader. However, the US company has technically updated the device and installed the modern A13 Bionic processor from the current iPhone 11. In addition, the optics and electronics of the camera have been improved. With the new iPhone SE, Apple is aggressively priced by its standards. Compared to the less powerful hardware of the iPhone 8, the price has been reduced by 50 euros. Thus, the entry-level model is available from 479 euros (64 GB storage). The variant with 128 GB costs 529 euros, the largest with 256 GB strikes at 649 euros.
June 16, 2020 The German Robert Koch Institute (RKI) releases the Corona Warning app for the iPhone and Android smartphones. The app was developed on behalf of the RKI by Deutsche Telekom or the group's subsidiary T-Systems and the software group SAP. The app is openly viewable as open source and relies on the technical interfaces of Apple and Google. With the decision to use the APIs of the two OS manufacturers, the dispute over the data protection concept also fell in favor of the decentralized storage concept. There is controversy in the public that only iPhone models from iOS 13 can run the Corona warning app. This leaves out popular models like the iPhone 6, 5s, 5 and older.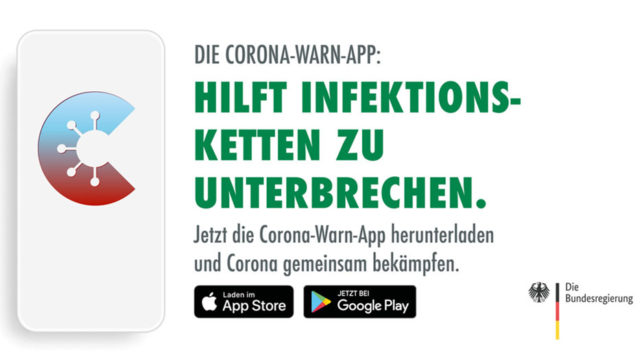 June 23, 2020:
Apple breaks out of the PC industry's well-worn rut and switches its Mac computers from Intel processors to chips developed in-house. This means that future Apple computers will run on the same technical platform as the iPhones and iPad tablets. The first Macs with the new chip architecture are expected to hit the market at the end of the year, company CEO Tim Cook announced Monday. The company will be able to build better products with it, promised chief developer Johny Srouji. Large software providers such as Microsoft (Office) or Adobe (Photoshop) are already working on adapted versions of their programs, emphasized software boss Craig Federighi. Apple expects the transition to take two years, Cook said. At the same time, Macs with Intel chips will continue to be supported – and new devices with processors from the semiconductor company are also planned.