2000
The Power Mac G4 Cube is introduced. It surprises with an unusual cube design and manages as a desktop computer completely without a fan. However, the high price and poor expansion options deter many buyers.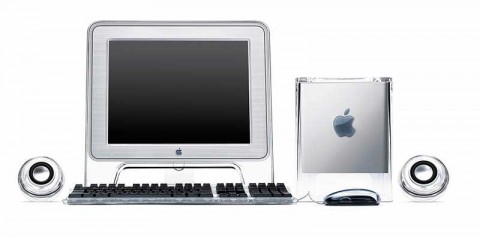 Apple releases the first beta version of Mac OS X. It's the first time that Apple makes such a pre-release product available to the public. This step allows Apple to respond to public criticism and, for example, to reverse the removal of the Apple menu in the final version of Mac OS X.
2001
Apple opens its first retail store. With the Apple Store, the company addresses consumers directly.
With the PowerBook G4, Apple introduces metal cases for its high-end notebooks. Initially, Apple uses titanium, later aluminum from 2003.
The second generation of iBooks says goodbye to the colorful design of the first series. From now on, the consumer notebooks have monochrome cases (white, later also black). Only with the unicase of the MacBook in fall 2008 do the low-end models also get an aluminum case.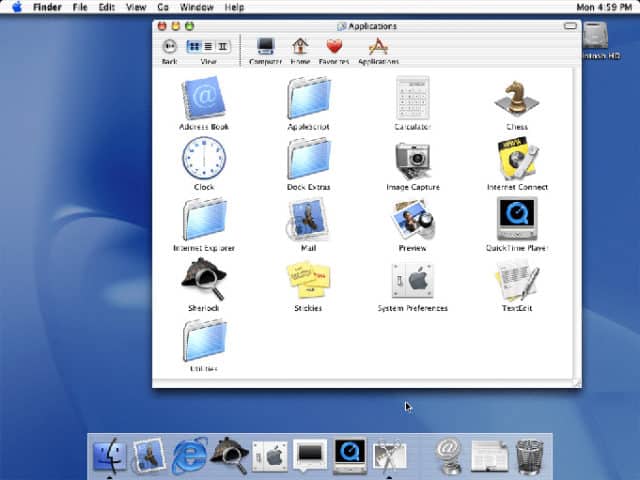 Mac OS X is released. Later in the year, the Mac OS X 10.1 update is released.
The Apple operating system competes with Windows XP, which was also launched by Microsoft in 2001.
Steve Jobs introduces the first iPod, initially as a Mac-only media player, on October 23, 2001, just weeks after the devastating attacks in New York and Washington.
Apple launches the first flat-panel iMac with a swing-arm design. This computer reminds many people of a desk lamp. OS X wird freigegeben.
2002
Mac O S X 10.2 is released. This release marks the breakthrough of the new Mac system in the Macintosh scene.
2003
Apple introduces Xserve, its first server for a 19-inch rack.
Mac OS X 10.3 Panther is introduced. The system adds native support for Windows file and print sharing access.The eMac is introduced. Originally designed for the education market, this all-in-one Mac is later offered in other markets and is the last Mac to be sold with a CRT display.
With the 17-inch PowerBook G4, Apple becomes the first manufacturer to offer a notebook with such a large screen.

2004
In the summer, Steve Jobs announces to his employees that he had been diagnosed with a dangerous pancreatic cancer and could be treated successfully by surgery. During the convalescence phase, COO Tim Cook takes the helm at Apple for four weeks.
Jobs makes a public appearance again at the WWDC developer conference in August 2004.
2005
Mac OS X 10.4 Tiger is released.
Apple launches the Mac mini, an extremely compact desktop computer. It is similar in concept to the G4 Cube, even smaller but much less expensive.
OS X 10.4 wird Tiger freigegeben.
Am 12. Juni 2005 hielt Apple-Gründer Stev
On June 12, 2005, Apple founder Steve Jobs gave a speech to graduates of Stanford University. He had just survived successful cancer treatment. Never again did Jobs speak so openly about his life.
2006
Apple introduces the first Macs with Intel processors at Macworld Expo in January.
The first Intel Macs available are the iMac and MacBook Pro. Apple completes the transition to Intel's new processor platform in all product lines by the end of the year.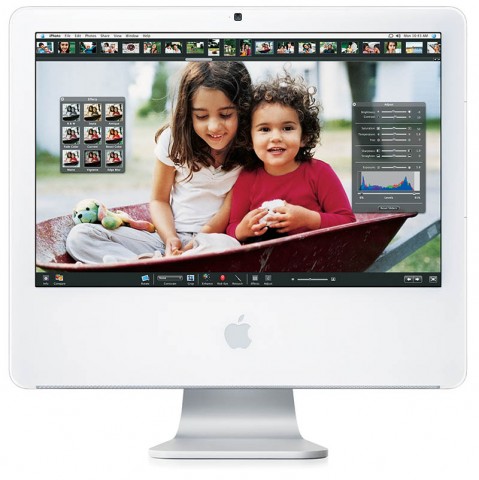 Also new are Apple Boot Camp (beta) and virtualization tools from Parallels and VMware that allow Windows to run on Apple hardware.
2007
Apple launches the iPhone and Apple TV, both running variants of Mac OS X.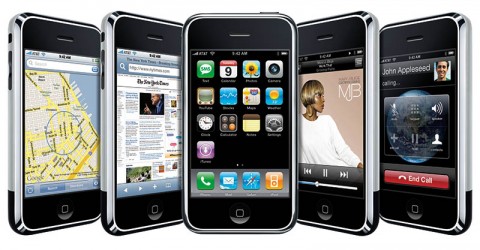 The iPhone changes Apple and the phone market forever.
The Apple TV set-top box initially remains a "hobby" for company CEO Steve Jobs – without much response from customers.
Mac OS X 10.5 Leopard is delivered and sold two million times on the first weekend.
2008
The MacBook Air is the lightest and thinnest Mac notebook Apple has ever produced.
The new iPhone 3G supports UMTS and is equipped with a GPS receiver.
Apple launches a new generation of MacBooks with a case machined from a block of aluminum.
MacBook Air ist das leichteste und dünnste Mac-Notebook, das Apple jemals produziert hat.
Das neue iPhone 3G unterstützt UMTS und ist mit einem GPS-Empfänger ausgestattet.
Apple bringt eine neue Generation der MacBooks auf den Markt, deren Gehäuse aus einem Aluminium-Block gefräst wurden.
2009
Apple cancels further participation in the Macworld Expo. Instead of Steve Jobs, who is ill, marketing boss Phil Schiller only shows new versions of the software packages iLife and iWork as well as a new 17-inch MacBook in a new case design at the last trade fair appearance.
Apple offers almost entirely music without copy protection in the iTunes Store after the four major music labels agree to online delivery without DRM.
Read more: The history of Apple (2010 – 2020)